Description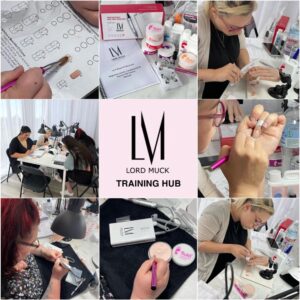 " WHAT'S INCLUDED "
You will

Receive

an Industry

Recognised

Lord Muck Professional Certificate of Completion.

Professional Kit that will see you through the course and beyond valued at over $499.

Lord Muck Professional Electric File plus 2 x Electric file bits and safety equipment valued at over $350.
" TELL ME MORE "
No SALON WORK EXPERIENCE NEEDED this is a requirement as part of most correspondence courses. Most people never finish this component, as it is very hard to find a salon placement for 2 weeks!

You will receive on going technical support for as long as required and you will be added to our private exclusive Facebook Group.

You will be be given the opportunity to Shadow for 1 day FREE in our Lord Muck Nail Salon with the team.. Watch learn and ask questions from the best in the business in a fast passed busy Nil Salon. This is Exclusive to Lord Muck Professional Students only and normally valued at $550.00.

You will learn in a up to date modern training facilities, located at the Lord Muck Nail Salon. This is a Purpose build nail Salon so you will be learning simulated nail salon environment. We will show you how we do it and what works for us.

Your instructor works in a busy salon, so they know what is hot and trending in the world of nails today.

Small classes… You will get more personalised training as we only enroll up to 10 students at a time with multiple Educators.

We teach you relevant/advanced topics and techniques such as reverse application and sculpting, Encapsulated Nail Art, Ombre Nails, the lasted Nail Shapes and so on.. which other colleges don't cover.

You will also be provided with a course manual to cover the information being taught in the course and this will act as a guide for you to refer back to at any time.
" WHEN & WHERE "
We currently hold our Victorian based Lord Muck Professional – Beginners Acrylic Fundamentals & Electric File Course at Lord Muck Salon based in Sunbury Victoria.
Our 2 Day Course runs for 2 consecutive day's on either a Sunday – Monday or Monday-Tuesday from 9.30am to 4.30pm.
" TELL ME ABOUT Lord Muck Professional Training "
Our mission is to provide the skills necessary to enter our industry confidently and competently while enabling our students to provide industry recognised services, professional care and informed advice for their clients.
Lord Muck Professional is a private organisation ran by our exceptionally experienced Educators that are Highly Qualified Nail Technicians who have been offering Australia wide Advanced training in our industry since 2016. In this time, we have been very fortunate to have advanced hundreds of qualified nail technicians by providing them the skills to take their careers to the next level. Our educators are all award-winning Nail Technicians with advance training and are successful Salon owners that well recognised in the industry.
Our Educators are passionate about providing excellence in both Salon Nails, Advance Nails and Providing Training. It is with this experience and proven track record of exceptional training that we have now decided to offer our exclusive Lord Muck Professional – Level 1, Acrylic Fundamentals Course.
" WHAT WILL I LEARN "
UNIT 1 – Acrylic Fundamentals 
Nail Anatomy: Contraindications, Nail Disease and Disorders.
Sanitation and Hygiene: following required Australian Industry Standards this component covers all correct sanitising, sterilisation, hygiene and OH&S.
Acrylic Product Knowledge: Get to know the science behind the products.
Safe Natural Nail Preparation and Care: Learn how to care and service safely for the natural nail.
Acrylic Application: You will learn Liquid to powder ratio, How to pick up a Bead and sizes of beads, Flush cuticle application, L & P Polymerisation, Application techniques, how to control your Acrylic application.
Acrylic Sculpting:  You will learn how to Sculpt Acrylic Nail Enhancements using Nail Forms. You will learn correct preparation of the Natural Nail, Acrylic Ratio Methods, Acrylic Application, Nail Shapes, Finish Filing, Reverse Bead French Nail Method, Sculptured Pink and White French, Sculptured Coloured Acrylic and


Glitter French, Sheer Powder application for Natural looking Sculptured Nails.

Acrylic Refills: Cuticle area Acrylic Removal, Preparation, Application, filing, Re-Shaping, Finish Filing.
 Acrylic Re balancing:  Full re balancing of the enhancement after substantial growth.
Acrylic Reverse Bead French:  Learn how to create a beautiful French Nail using a reverse bead method, Great for Nail bitters and extending nail beds for design nails.
Nail Shapes:  Learn the latest Trend Nail Shapes including Square Nails, Coffin Nails, Almond Nails, Salon Stiletto Nails, Round and Oval Nails.
Form fitting and modification:  learning how to correctly position and fit forms to suit all nail shapes.
Acrylic Enhancement Removal:  This component covers all safe correct removal procedures for Natural Nail Preservation.
Nail Art: Our Art component covers embedding glitters, coloured powders and a range of mixed art media's.
Gel Polish Application:  The basics of Gel Polish application on acrylic enhancements. (please note we have a Gel Manicure work Shop – Ask your educator for more information).
Aftercare:  Covering all aftercare information for yourself and your clients, When to return for refills etc. Caring for your acrylic nails.
UNIT 2 – Electric File (Nail Drill)
Safe E-filing for both natural nail and


acrylic enhancements.

 All about your E-File, Understanding how an e-file works.
Setting your E-File Speeds for different uses.
Safely and Competently using your E-file.
Hand control & Balancing of your E-File.
E-File Bits and accessories and their use.
Natural Nail Prep use approve Prepping Bits.
Removing Lift & Flushing your product into the natural nail regrowth nail for refills.
Removing Gel Polish.
Debulk and Removal of Product.
Rebalancing the nail.
Refiling the nail.
Changing Nail Shapes.
Decrease Length of nails.
Under Nail Filing cleaning.
Finish filing perfecting.
" HOW MUCH & HOW DO I ENROLL "
The all inclusive Lord Muck Professional – Beginners Acrylic Fundamentals & Electric File Course is $2660.00 Inc gst.
To enroll you will need to pay a deposit minimum of $560.00 Inc GST. Important please be aware the $560.00 deposit is non refundable, however you can defer your start date once only due to unforeseen circumstances.
All balances are strictly due 14 days prior to your commencement date, if not received on time this may mean your Professional Kit may not be ready. You cannot join the class until all balances are received.
We hope to see you at our next class xx