Customized Designer Party Nails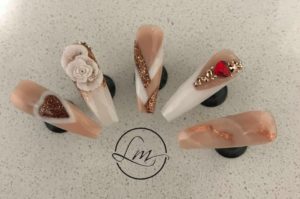 Lana Ryan established owner of Lord Muck brings salon nail designs inspired by the latest trends to your home with simple easy Press-on Nails.
Press-on Nails are a simple alternative to having artificial nails over your natural nails. Keeping that freshly done manicure look, without the hassle. Press-on Nails last around 1-2 weeks, providing you have followed the directions.
Lana is a busy Salon Owner, who resides in the outer suburbs of Melbourne. She is often booked out, but decided she wanted to still be able to offer everyone a gorgeous Manicure, and a easy one you can do at home.
Each Press-on Nail is hand made by Lana herself, incorporating her most popular salon designs.